2022 Exhibition [Spring / Summer]
Ryoji Ikeda | solo exhibition
2022.4.16
(SAT)
― 8.28
(SUN)
Ryoji Ikeda point of no return, 2018 Photo: Takeshi Asano ©︎Ryoji Ikeda

Ryoji Ikeda data.flux [n°1], 2020 Photo: Takeshi Asano ©︎Ryoji Ikeda

Ryoji Ikeda data-verse 3, 2020 Photo: Takeshi Asano ©︎Ryoji Ikeda
Commissioned by Audemars Piguet Contemporary
with special thanks to The Vinyl Factory

Ryoji Ikeda exp #1-4, 2020-2022  Photo: Takeshi Asano ©︎Ryoji Ikeda

Ryoji Ikedadata.tecture [n°1], 2018 Photo: Takeshi Asano ©︎Ryoji Ikeda

Left: Ryoji Ikeda data.scape [DNA], 2019
Right:Ryoji Ikeda data.scan n°1b-9b, 2011/2022  Photo: Takeshi Asano ©︎Ryoji Ikeda
The Hirosaki Museum of Contemporary Art presents a solo exhibition of works by the internationally acclaimed artist and composer Ryoji Ikeda, based in Paris and Kyoto, from Saturday, April 16 through Sunday, August 28, 2022. Ikeda (b. 1966) has created numerous immersive works that dynamically combine technology, light, and sound to electrify the viewer's senses. This will be Ikeda's first major exhibition at a Japanese museum since 2009, and will showcase his recent activities including new works.
Since 2000 Ikeda has pursued the theme of data, with a particular interest in scientific fields such as genetics, quantum physics, and astronomy, which he has incorporated into works that present new ways of perceiving the world in numerical terms. For example, in data-verse 3 (2020), shown for the first time in Japan, data from NASA and many other scientific organizations is collected, processed, and converted into high-resolution images projected in the gallery. Experienced both visually and aurally, the works envelop viewers in a world composed of vast amounts of data that usually go unseen and unnoticed.
In addition to a projection in the spacious, 15-meter-high atrium, video and sound works in each gallery connect to one another, and the works resonate and sympathetically vibrate with the unique architectural space of the renovated Brick Warehouse. This exhibition promises to expand the possibilities of the space, originally built as a brewery around 100 years ago and converted into an art museum, and offers the opportunity to experience a diverse range of works that provoke the imagination.
Artists
Ryoji IKEDA

Born in 1966 in Gifu, Ikeda currently lives and works in Paris and Kyoto. While rooted in electronic music, the internationally active composer and artist also produces art as experimentation. Ikeda's immersive live performances and installations employ an elaborate orchestration of sound, visuals, matter, physical phenomena, and mathematical concepts. He performs and exhibits worldwide at spaces such as Museum of Contemporary Art Tokyo, Singapore Art Museum, Ars Electronica Center Linz, Elektra Festival Montreal, Grec and Sonar Festivals Barcelona, Aichi Triennale Nagoya, Palazzo Grassi Venice, Park Avenue Armory New York, The Whitechapel Gallery London, The Barbican Centre and Somerset House London, Museo de Arte Bogota, Hamburger Bahnhof Berlin, DHC/Art Montreal, Festival d'Automne à Paris, Sharjah Biennale, Carriageworks Sydney, Auckland Triennale, MONA Museum Hobart – Tasmania, Ruhrtriennale, Telefonica Foundation Madrid and Kyoto Experiment Festival, ACT Centre Gwangju (Korea), Singapore Art Science Museum, Kunstverein Hannover, RuhrTriennale, Festival d'Automne and Pompidou Center , Barbican, The Vinyl Factory, and ZKM centre for Art and Media, Karlsruhe, among others. In 2018, Ikeda launched an online source under the name, codex | edition. He has received the Prix Ars Electronica Collide@CERN in 2014, and the 70th Japanese Minister of Education Award for Fine Arts (Media Arts Division) in 2020.
Exhibition Highlights
1.Large-Scale Audio-visual installation in the 15-meter-high Atrium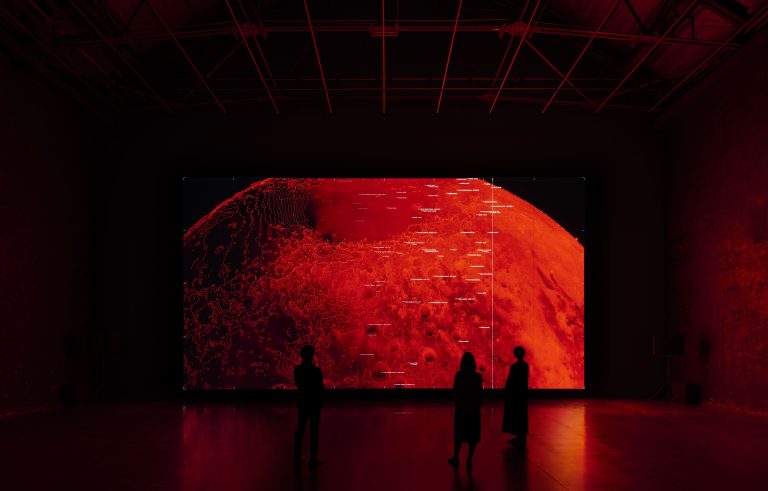 Ryoji Ikedadata-verse 3, 2020 Photo: Takeshi Asano ©︎Ryoji Ikeda
Commissioned by Audemars Piguet Contemporary with special thanks to The Vinyl Factory
data-verse is a three-part video and audio work, presented for the first time at the 58th Venice Biennale in 2019, incorporating vast quantities of open-source data from organizations such as CERN (the European Organization for Nuclear Research) and NASA (the US National Aeronautics and Space Administration). The series, created with data ranging from the inside of the atomic nucleus to the furthest reaches of the cosmos, takes the viewer on an epic journey that oscillates between micro and macro perspectives. Here data-verse 3, which was also featured at Art Basel 2021, will be presented in Japan for the first time. Representing the culmination of Ikeda's recent work, it will be projected in the atrium space which is the museum's most distinguishing architectural feature.
2.Visual and Auditory Experience of Works that Resonate with Museum Architecture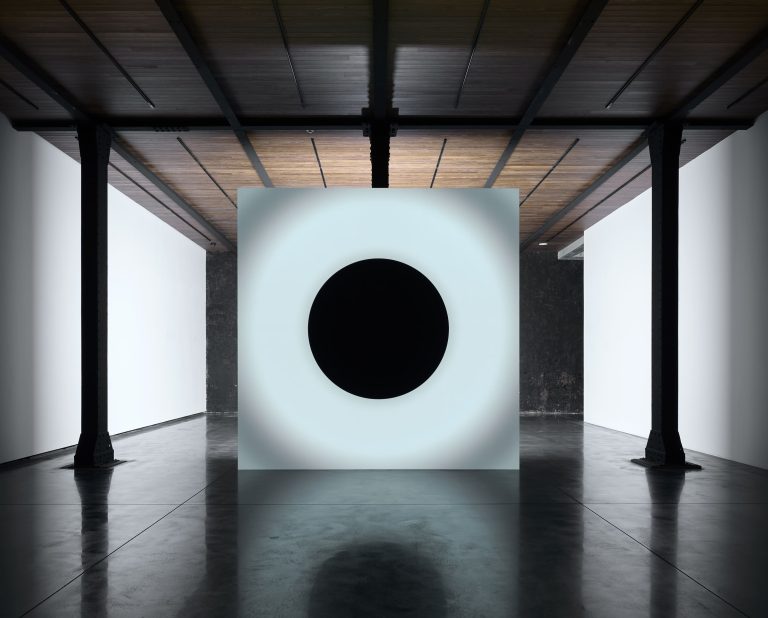 Ryoji Ikedapoint of no return, 2018 Photo: Takeshi Asano ©Ryoji Ikeda
The works of Ikeda, whose activities began with electronic music composition, construct a space as if creating music in response to the venue's character. The works will be deployed so as to highlight to maximum effect the architectural characteristics of the museum, such as its steel structure and black coal-tar walls, which retain the atmosphere of the late 19th and early 20th century when it was constructed and used as a warehouse. In addition to positioning artworks so as to engage in dialogues with the space, the superimposition of audiovisual elements will bring about resonance between the architectural space and the artworks as a whole. Viewers will enjoy a site-specific experience of the works only possible through an in-person visit to the museum.
3.New and Recent Works, Those Exhibited in Japan for the First Time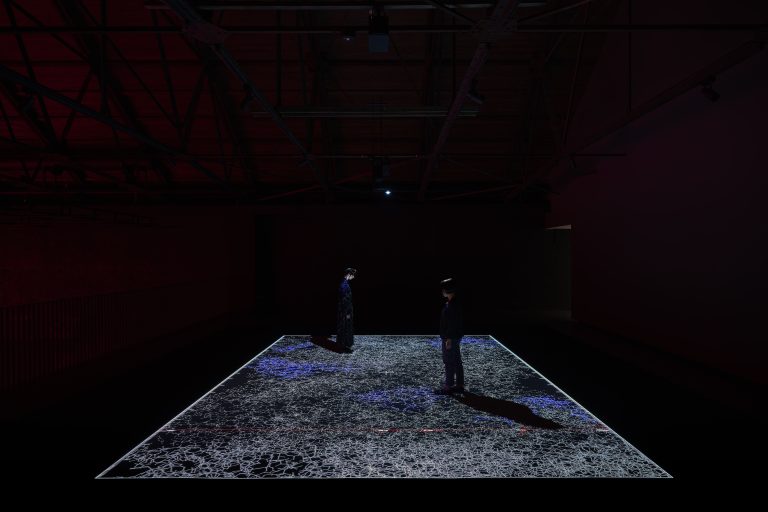 data.tecture [nº1], 2018 Photo: Takeshi Asano ©Ryoji Ikeda
Ikeda's first solo show in Japan in 13 years (2009) features new and recent works incorporating a wide range of processes, including the laser piece exp and floor-projected piece. This is a rare opportunity to view the recent activities of international artist Ikeda through a diverse body of work that expands the viewer's senses. Closer proximity to the artist and his creations is offered through an archive and listening area where visitors can listen to samples of Ikeda's past musical pieces and browse records of his activities.
Outline
Date: 2022.4.16 (SAT) ―2022. 8.28 (SUN)
Closed: Tuesdays (except on Apr. 26, May 3 and Aug. 2, 2022)
Opening hours: 9:00-17:00 (Last admission 30 minutes before closing)

Warning: Strobe effects in the works may affect those with medical sensitivity to strobe effects and/or heart conditions.
Organized by Hirosaki Museum of Contemporary Art
Special Sponsor: Starts Corporation Inc.
Sponsors: OBAYASHI CORPORATION, NTT FACILITIES, INC.
Cooperated by 180 Studios, TARO NASU
Supported by The To-o Nippo Press, THE DAILY TOHOKU SHIMBUN, THE MUTSU SHIMPO Press, Aomori Broadcasting Corporation, Aomori Television Broadcasting Co., Ltd., Asahi Broadcasting Aomori Co., Ltd., Aomori Fm Broadcasting, FM APPLE WAVE, Hirosaki City Board of Education

Admission (tax included):
Adults 1,300yen (1,200yen)
University & College Students 1,000yen (900yen)
*() Price for a group over 20 people *Free of charge for high school students and under; inter­national students in Hirosaki city; citizens of Hirosaki over 65; the disabled and one accompanying attendant

Parking
Please note that parking is not available at the museum.
Please use public transportation or paid parking near the museum.

Discounted Parking for Museum Visitors
A parking discount of ¥100 per visitor is available for up to two visitors (¥200).
for details